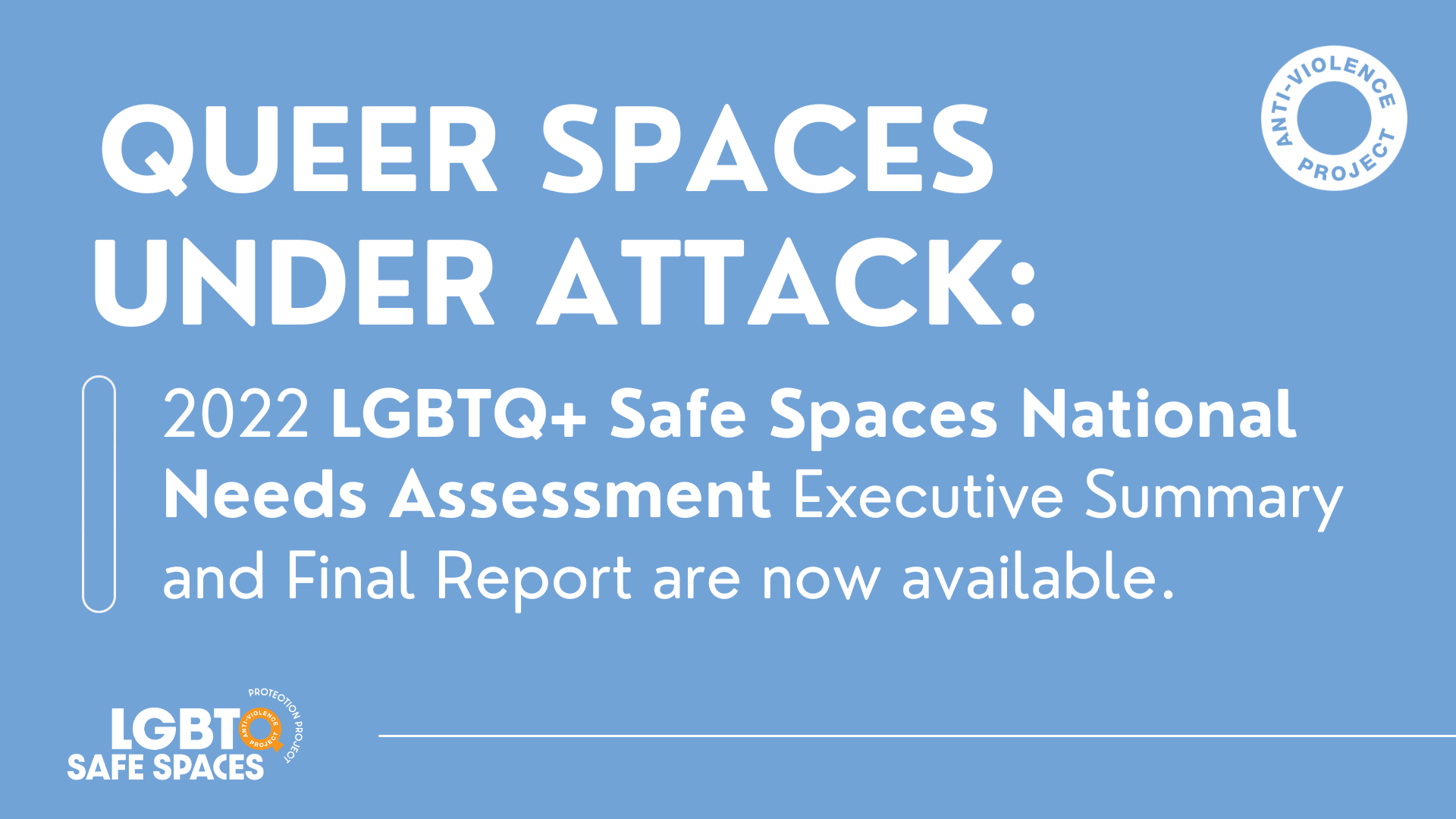 Report is the first-of-it-kind featuring data from 380 organizations nationwide about hate violence, reporting and resolution, and hate prevention needs.
LGBTQ+ safety isn't just a Pride month topic. In fact, it's critical to address the other 11 months of the year and support these organizations daily by ensuring they have what they need to be safe."

— Beverly Tillery, Executive Director, New York City Anti-Violence Project
NEW YORK, NEW YORK, UNITED STATES, July 12, 2023/EINPresswire.com/ — The threats against LGBTQ+ communities have been widely reported, but for the first time, LGBTQ+ organizations spoke out directly on what they experienced in 2022 and the critical needs they have for future safety in a new report, "Under Attack: 2022 LGBTQ+ Safe Spaces National Needs Assessment" by the New York City Anti-Violence Project. For Drag Story Hour, a national organization coordinating educational youth literacy events featuring drag performers, safety is still a top concern.
"We have been diligently working to create community-wide support of our events because what we have experienced is overwhelming," said Jonathan Hamilt, the Executive Director of Drag Story Hour.
Hamilt said Drag Story Hour events faced multiple hate incidents nationwide including protests and doxing, and they were not alone. In data from the first-ever LGBTQ+ Safe Spaces National Needs Assessment, the New York City Anti-Violence Project (AVP) found more than three out of five (62.1%) of the 380 LGBTQ+ businesses, groups, and organizations surveyed from across the United States experienced at least one incident of hate violence in 2022.
"Despite all of the discussion around hate violence, this is the first comprehensive survey directly asking LGBTQ+ organizations about the hate they experienced, and what they need to prevent it," said Beverly Tillery, Executive Director of AVP. "LGBTQ+ safety isn't just a Pride month topic. It's critical to address the other 11 months of the year and support these organizations daily by ensuring they have what they need to be safe."
Respondents reported incidents such as vandalism, threats or harassment, hateful social media messages or phone calls, protests, and other types of hate-motivated incidents in the National Needs Assessment. Not only were these incidents common according to the report, but they were also relentless. Groups were more likely to experience multiple incidents than to have just one incident. Just under one in three groups (28.8%) experienced two or more different types of incidents, and nearly one in 10 (8.7%) experienced at least four types of hate incidents. The survey also found that the majority of surveyed organizations need prevention funding, training, and resources.
Tillery noted that tracking anti-LGBTQ+ hate is a part of AVP's regular work, but the nature of the threats has changed over time, which AVP first recorded in its 2019 Pride and Pain report.
"For more than 40 years, AVP has worked to help LGBTQ+ people who survive violence to heal and to live freely," said Tillery. "Over the last few years, threats and acts of violence toward the spaces and places we hold dear have increased and become more organized, and we must take more preventative and definitive actions to protect our communities."
All types and sizes of LGBTQ+ organizations across all 50 states experienced hate incidents, according to the survey data. The online survey collected data between December 2022 and March 2023 in partnership with data research firm Strength in Numbers Consulting Group.
"This survey centers the 380 experiences of the organizations and businesses who participated, offering data about the hate violence confronting them as well as what they need to protect themselves and their communities," said Somjen Frazer, President and a Principal Consultant at Strength in Numbers Consulting Group, who served as project research lead. "Now we have data to support what we heard anecdotally from LGBTQ+ organizations and businesses — they frequently do not report experiences of violence to the police."
Nearly nine in ten (86.8%) community centers experienced at least one phone or in-person incident. Among youth-serving groups, 69.7% experienced at least one hate violence incident. LGBTQ+ community centers and youth-serving organizations or businesses were especially likely to experience online harassment.
Though overall, 50.9% of organizations experienced online hate, over three-quarters (78.3%) of LGBTQ+ community centers reported experiencing it, and over three-fifths (65.7%) of youth-serving organizations. Organizations serving transgender people also experienced increased instances of some types of online hate.
"Organizations are really facing threats on all fronts and it has a major impact on not only the organization but the staff and community," said Audacia Ray, AVP's Director of Community Organizing and Public Advocacy. "Whether it's an in-person threat or online threat, it takes a toll, especially when hate groups are in the mix."
Nearly half (47.5%) of groups that experienced protests reported that they believed white nationalist groups led them. In addition, some organizations reported that the belief that police may be connected to or aligned with white nationalists is a significant factor. Of the organizations that did not report protests to their local police, 16.7% of these stated they did not report to police because they believed the police were allied with white nationalist groups.
Tillery says the reality is that LGBTQ+ organizations are experiencing more violence than ever before, and the data shows a great unmet need for resources for security infrastructure and community-led safety initiatives and training. Nearly nine in ten (89.6%) organizations and businesses want at least one security measure that they do not have.
The training and staff security measures organizations most commonly have are safety planning and safety protocols (53.2%), or an agreement among staff about under what circumstances they will involve the police (53.0%). Nearly a quarter (23.6%) of organizations have active shooter training for staff and volunteers, and over half (53.1%) want active shooter training.
AVP partnered with Drag Story Hour to provide safety planning training and resources in response to incidents of hate during Pride 2022. Hamilt says community support is vital but is only one piece of the puzzle of preventing the violence Drag Story Hour and other groups are facing.
"In addition to the support, we also need funding to help equip and train our "Royal Guard" Safety Marshal Team to not only withstand the hate but to collectively heal from it," said Hamilt.
The executive summary and full report of the 2022 National Needs Assessment are available on AVP's LGBTQ+ Safe Spaces Protection Project website,