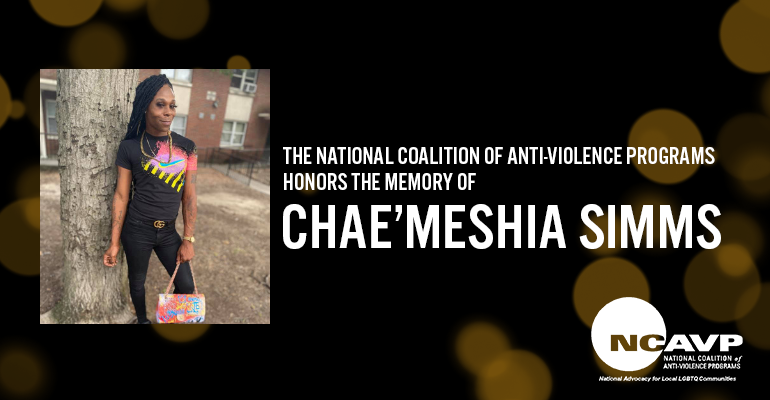 This post remains published for posterity.
The In Memoriam Page is the complete listing.
NCAVP mourns the death of Chae'Meshia Simms a 30-year old Black transgender woman found dead in her car in Richmond, VA on November 23. Simms was suffering from a gunshot wound, and collided into a garage in an alley when authorities discovered her body. She was pronounced dead at the scene.
Friends and family have been mourning Chae'Meshia's death on social media. Her latest profile picture has been shared over a dozen times, with messages of grief and memories – "you will be truly missed" writes one. "Rest Up Baby " writes another. Chae'Meshia's father is publicly demanding justice for her death, telling one publication: "I ask [whoever did it] to turn yourself in … we're never going to stop looking." On ChaeMeshia's disposition, he says she was a "well-loved individual" who was "always caring for others."
Richmond police ask anyone with information about Simms' death to call Major Crimes Detective M. Godwin at 804-646-5533 or Crime Stoppers at 804-780-1000.

NCAVP stands in solidarity with Black trans women, and we know that it is always hard to read these reports of violence against our communities. We know this can be even more painful when there continues to be an unchecked epidemic of homicides of Black trans women, as police violence is escalating against Black and brown people, and our nation continues to be grappling with the COVID-19 pandemic that highlights long standing healthcare disparities for Black and brown communities. If you need support in these difficult times, you can always reach out to your local NCAVP member. If you or someone you know is experiencing violence, you can reach our free bilingual national hotline at 212-714-1141 or report online for support.
NCAVP works to prevent, respond to, and end all forms of violence against and within lesbian, gay, bisexual, transgender, queer (LGBTQ) and HIV-affected communities. NCAVP is a national coalition of local member programs and affiliate organizations who create systemic and social change. NCAVP is a program of the New York City Anti-Violence Project.