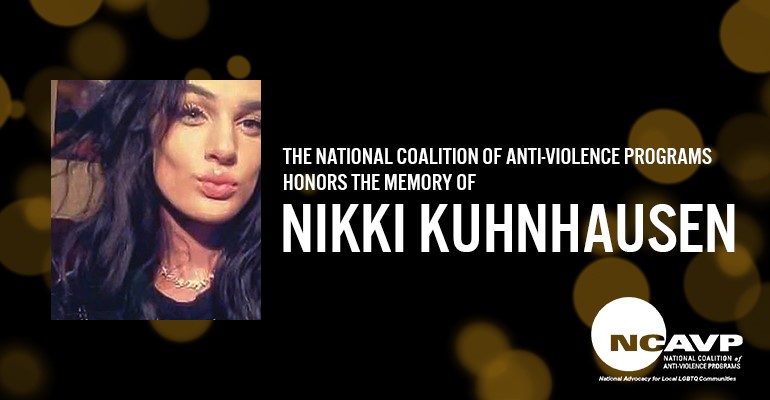 This post remains published for posterity.
The In Memoriam Page is the complete listing.
NCAVP mourns the death of 18-year-old transgender woman Nikki Kuhnhausen in Clark County, Washington. According to media reports, Nikki Kuhnhausen has been missing since June after meeting with a man she met off of snapchat. A search coordinated by the National Women's Coalition Against Violence and Exploitation (NWCAVA) led to her body being found earlier this week. 
Nikki Kuhnhausen's parents, Lisa and Vincent Woods, worked diligently to find their missing daughter, passing out flyers at pride parades and throughout the community. "Nikki had my heart from the moment she was born," Lisa Woods told media. "She's been my special child and she keeps me knowing I am worth something." 
Our deepest condolences to the family and friends of Nikki Kuhnhausen. Donations can be made in Nikki's name to NWCAVE and will be used for funeral costs. 
We know it can be hard to read these reports of violence against our communities. If you need support in these difficult times, you can always reach out to your local NCAVP member. If you or someone you know is experiencing violence, you can reach our free bilngual national hotline at 212-714-1141 or report online for support.
NCAVP works to prevent, respond to, and end all forms of violence against and within lesbian, gay, bisexual, transgender, queer (LGBTQ) and HIV-affected communities. NCAVP is a national coalition of local member programs and affiliate organizations who create systemic and social change. NCAVP is a program of the New York City Anti-Violence Project.