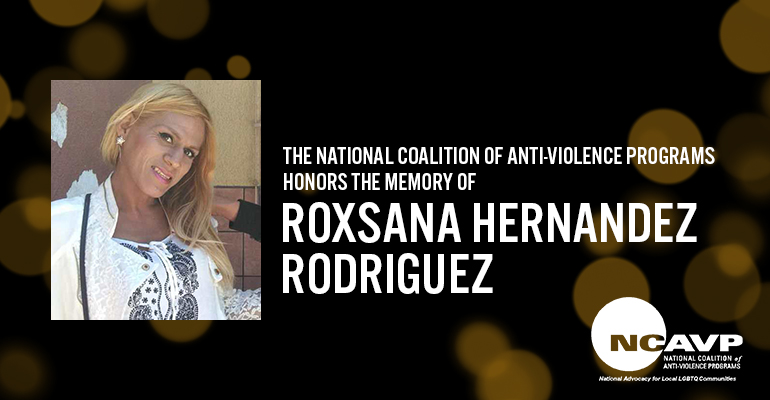 This post remains published for posterity.
The In Memoriam Page is the complete listing.
Content warning: mention of r*pe, blunt force
NCAVP Mourns the Death of Roxsana Rodriguez, a 33-Year-Old Latinx Trans Woman, in New Mexico.  On May 9, after travelling with an organized caravan, Roxsana requested asylum at the San Ysidro port of entry and was detained in a privately operated Immigration and Customs Enforcement Detention Center. According to reports, Roxsana's second autopsy reveals that she was beaten while in ICE custody. Nine days after being transferred to a unit for transgender women at the Cibola County Correctional Center in New Mexico, she died of dehydration and critical illnesses, due to lack of proper HIV treatment, on May 25th.
One month before arriving at the U.S. border, Roxsana reported being gang-raped in Honduras by four members of the MS-13 gang, resulting in her being infected with HIV. This urged her to try again for asylum in the United States, after being deported three times. AVP stands in solidarity with all people seeking asylum. If you or someone you know is TGNC or LGBQ and in search of free legal services around asylum, AVP is here to support:call our 24 hour hotline at 212-714-1184. During business hours, you will speak directly with a Counselor/Advocate who will conduct a brief intake and forward your information and legal concerns to the Legal Services Department who will then schedule an in-person comprehensive legal intake. Legal appointments are usually made within one week, and faster in emergency cases.
We know it can be hard to read these reports of violence against our communities. If you need support in these difficult times, you can always reach out to your local NCAVP member. If you or someone you know is experiencing violence, you can reach our free bilingual national hotline at 212-714-1141 or report online for support.
NCAVP works to prevent, respond to, and end all forms of violence against and within lesbian, gay, bisexual, transgender, queer (LGBTQ) and HIV-affected communities. NCAVP is a national coalition of local member programs and affiliate organizations who create systemic and social change. NCAVP is a program of the New York City Anti-Violence Project.