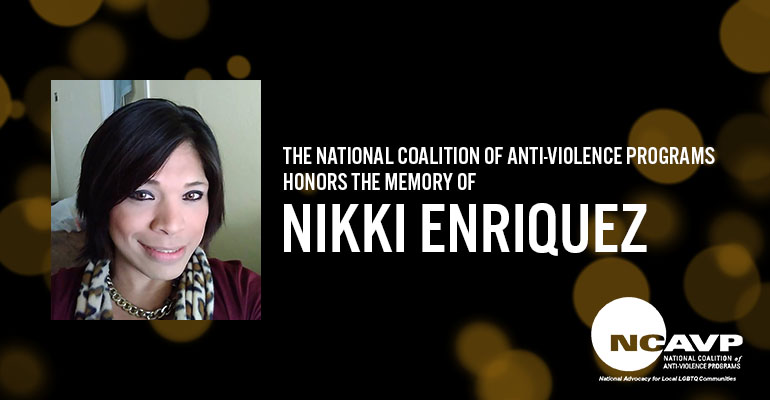 This post remains published for posterity.
The In Memoriam Page is the complete listing.
NCAVP mourns the death of Nikki Janelle Enriquez, a 28-Year-Old latinx trans woman, in Laredo, TX. U.S. Border Patrol intel supervisor, Juan David Ortiz, has been charged with the murders of Nikki Janelle Enriquez and three other women—Melissa Ramirez, 29, Claudine Ann Luera, 42, and a woman who has not yet been publicly identified. All of the women involved were sex workers. According to recent reports, Enriquez was found and killed Saturday, September 15.
In initial reports, law officials deadnamed and misgendered Enriquez. After this information was released, Webb County-Zapata County District Attorney, Isidro Alaniz, correctly identified Enriquez as a transgender woman. The practice of deadnaming and misgendering trans, gender non-confirming and non-binary people is oppressive and contributes to the physical and fatal violence waged against the TGNC community.
In remembering Nikki Janelle Enriquez, NCAVP grieves and stand in solidarity with all sex workers and the TGNC community.
We know it can be hard to read these reports of violence against our communities. If you need support in these difficult times, you can always reach out to your local NCAVP member. If you or someone you know is experiencing violence, you can reach our free bilingual national hotline at 212-714-1141 or report online for support.
NCAVP works to prevent, respond to, and end all forms of violence against and within lesbian, gay, bisexual, transgender, queer (LGBTQ) and HIV-affected communities. NCAVP is a national coalition of local member programs and affiliate organizations who create systemic and social change. NCAVP is a program of the New York City Anti-Violence Project.